My kids change their Halloween ideas a few times before settling on one costume. It's kind of a ritual that they go through. Well, I should say Emma and Philip do this. They always loved costumes, dressing up, all that stuff when they were little. Christopher wore a Batman suit as his sole foray into dress up world, and every Halloween he knew what he wanted to be by Labor Day and he stuck to it. Of course, his particular weirdness was to eat all of his Halloween candy on Halloween night and well...you sort of know the rest if you've ever run a highly necessary wash at 3 am.
But not being able to make linear decisions is genetic. Emma and I went into the basement to look at all the Halloween stuff we had lying around. I saw a bunch of coats in a box and remembered the coat drive for the homeless. I was trying on a coat that I once really loved: this red, wool coat with big buttons that I haven't worn since I was maybe 25. I thought I looked pretty good when Emma looked over and said, "Wow, Mom, you look just like Clifford in that." In case you haven't traveled with the under 12 crowd recently, this is Clifford:
I put the coat in the box. Then Emma announced what she wanted to be for Halloween. "I need a new wig," she said, "since Snooki has long, black hair."
This is my interpretation of Snooki: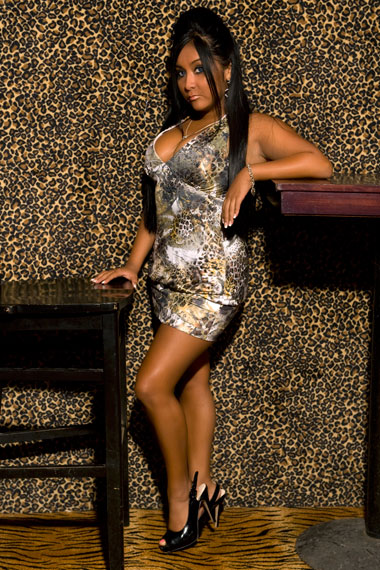 Needless to say, I got judgmental. The Jersey Shore is everywhere around here, particularly since we live at the Jersey Shore, only here's the thing: they act and speak just like people from North Jersey or Brooklyn or Staten Island do. They don't act at all like the folks down here who spend a lot of time quilting and quadding and thinking about ducks. After explaining to Emma all the reasons why she shouldn't go out dressed as her, she shrugged and said, "That's my final decision."
I appealed to Philip. "You talk to her," I said, "since she'll listen more to you." I was going on and on about what a terrible role model she is, how I was not happy, and he looked at me and smiled.
"You don't get it all, Mom. You act like this is serious. It's Halloween."
"Yes, but..."
"You're acting like she's going to be Snooki as a career or something. Emma thinks Snooki is a joke. She laughs when she sees her clothes. She's going out as her to make fun of the whole thing."
I was thinking about what he said when Emma walked in, her face red. "Philip, there is no way you are going out as that."
"As what?" I had been so preoccupied with Emma's choice that I hadn't asked Philip about his.
"A clown," she wailed. "An evil clown. I can't stand clowns. I won't go in the parade with you if you do this. Clowns are like my worst nighmare."
I'm fairly certain neither one will budge about their costume choice. This should be an interesting Halloween.
Maybe I should dig out my old favorite coat and just get a pair of big red ears.