My oldest son has just begun driving, and when I tell people this, I think this image forms: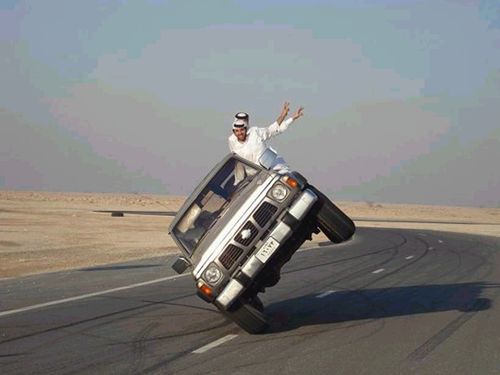 For some reason, I am really relaxed about this, and I am not a relaxed mom. I still carry BandAids and Neosporin, and have since my oldest began crawling. I don't let them "chillax" at a house if I don't know the parents - and sometimes they can't go because I DO know the parenats. I still count their vegetable, fruit and calcium servings. But about driving, I am relaxed. Of course, that's probably because Christopher is a reasonable kid. (Come back when Philip starts and people will be sending me Xanax...)
His DAD grabbed the emergency brake the other day. His father is a wreck about this (pardon the pun). That's probably because his father has no history of driving with Christopher.
I remember when he was about five, we went out to the playground after he finally shook a bad cold. On the way home, he asked to sit in my lap and "drive" - we did this pretty often. Because he had been so sick, when he asked to drive in the seat by himself, I hesitated, but let him - only up our long, flat driveway. He was ecstatic. He was doing a great job. Only I had forgotten to teach him a really, really important aspect of driving. When you sit on mom's lap and steer, you don't get too much about the pedals below. So as he drove up and got close to the garage door, I said, "Brake, Christopher. It's time to brake."
He looked at me with his pre-kindergarten face. "What's that?"
I reached over and pulled the emergency brake literally one second before we would have crashed into the garage door.
I think that was the dumbest move I've made with kids in my life. Or at least with Christopher.
I think I'm relaxed about it because I learned to drive in New York City where stop signs are pauses and speed limits are viewed more as recommendations, not laws. Plus, he's the kind of kid who when I call him while I'm driving reminds me, "Mom, it's illegal to drive and talk on a cell phone."
It's such a strange rite of passage to see your kid driving past the house. And like a lot of milestones they pass, it's a rite of passage for the parents,too.