Over Thanksgiving, we went on a long car ride where I found out my daughter believes the ghost of a little girl is living in our house, that my middle son knows an endless number of jokes involving butt lint, and that my oldest guy absolutely can never again eat five Fiber One bars before getting into a car on a cold day when the windows cannot be opened. Absolutely never.
The night before, we had watched the Duggar family, all seven thousand of them, going on a car trip. (They're that family somewhere in a place like Arkansas or Omaha who have seventeen kids and one on the way) The older girls took care of the younger kids. They sang songs about Jesus. No one shouted or swore or fought over not sitting in the middle or whether or not doughnuts are as toxic as Mom claims they are. I really like the Duggar family, even if they wear prairie clothes and have scary hair. They're sort of our family in the anti matter world.
There are only five of us, and five animals, and we listened to Pink Floyd in the car, then Bing Crosby Christmas carols for Emma. Bing didn't last too long with this crowd. My daughter, who is the only ten year old on the planet (and possibly on other planets) who dislikes Hannah Montana, finally decided on Evanescence.
When that ended, we argued for a few miles. Philip kept snapping pictures of us in the car (we took none at the holiday table) with his phone. Our memory stick on the camera is full, and we forgot to buy a new one. So here we are, candid and ragged.
Sixteen Year Old in Thirty Mile Electronic Trance: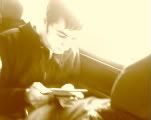 Philip and Emma After Agreeing on Music: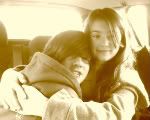 Sneak Shot of Mom:
And an image I found on my phone today that I'll bet you Mrs. Duggar would never find on hers:

That image is from Pink Floyd, a band I listened to at least twenty years ago, and that my two boys now really like. I think it's kind of a teen's way of saying hi, or maybe something along the lines of thanks for telling me the stories behind songs like Shine On You Crazy Diamond (and not making it sound like English class, though I did sneak in a bit of symbolism once I had their attention)
I'll bet Mrs. Duggar's kids give her things like this too, only they probably use words. That's fine by me; symbols work just fine here with our little anti matter family.