Since I am the kind of parent who is up until 2 or 3 a.m. on Christmas Eve, and I wrap birthday presents in the car while my kids are waiting to go inside to the party, I've decided to celebrate Thanksgiving early. I'm never early, but here it is Thanksgiving already on my blog. See? People can change.
So what am I grateful for? I think most of all, I am grateful that my kids are turning out okay. Yes, they slam doors and act like Dracula on a regular basis (dark, brooding, filled with angst), but that's pretty normal I think. Philip told me yesterday that, "You're the kind of mom I'll like again when I'm like 30." But I think the larger stuff matters more.
Over the weekend, we had a birthday party for a teenager whose parents decided she is too old to have a party (she turned 18). We ran around the warehouse store looking for presents since everything else was closed. We came up with flowers, balloons and an enormous pumpkin pie. The girl likes to draw, so we found some art supplies, charcoal pencils and drawing papers. She didn't mind that we wrapped her presents in colored tissue paper and put candles in a giant pumpkin pie. I really liked that the kids worked together to put up crepe paper and get out the birthday tablecloth and some balloons. They were doing all this for someone else -- they couldn't believe parents wouldn't celebrate a birthday.
We had no guests other than ourselves, so we invited the cats, our Malaysian houseguest (who took the house down with Happy Birday - and that's not a typo - things really, really do get lost in translation).
Anyway, there we were, with five cats, Mazy, the German shepherd, the three kids, two parents, a Malaysian houseguest, and a pumpkin pie the size of a pizza with old Barbie candles blazing - and we had a good time. And that brings me to number two: I am grateful that my kids accept weirdness so readily. I mean, they have to, living here, but things don't have to be perfect for them to have a good time.
And I am grateful that they get along so well. This Halloween, Philip wanted to go out as an Eskimo and have Emma attached to him as an igloo - I think that's pretty telling (except once Emma found out what an igloo was, exactly, she protested) But moments like this make me grateful: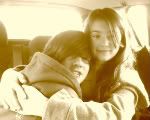 and in the rare Christopher sightings: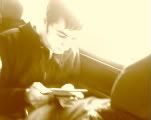 I am grateful that I have one quieter kid to balance out the other two chatty ones.
And I am grateful that even though I have very little time to write, what I do write seems to get published.
What I like about Thanksgiving is its positive thinking - it's like asking what's GOOD about your life? That's a great question. It makes us forget how dreary November can be.
So tell me -- what are some of the great things about your life?