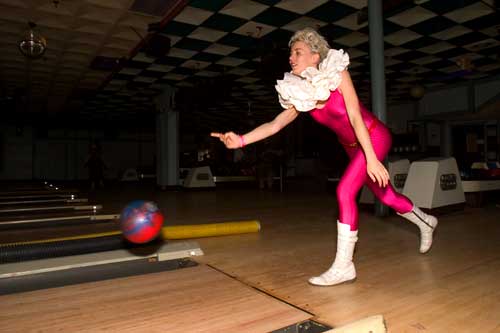 Today is my birthday, and we celebrated last weekend when my husband had a rare Friday night off. A close friend of mine came for a visit and bought me a freezer (I know, you are clearly middle aged when you are happy about receiving appliances), but she did it so I could expand my garden. And of course there was cake, chocolate and sinful, and I actually hid the last piece from the kids.
When the kids asked me what I wanted for my birthday, I told them I wanted to do something entirely NORMAL as a family. I wanted all of us to spend time together and not have it be at all weird.
"Impossible," my oldest said, "it's us, remember?"
But they agreed to do whatever I chose for the night.
"For one night, I want us to be normal. I want to go...bowling."
The kids gasped. But a deal is a deal, so off we went, all five of us to Thunderbird Lanes. And things were normal until we went to rent the shoes.
"You do what?" my daughter asked the man, "you wear someone else's shoes?" She backed away from the counter. "That is too gross. No. I'm not doing that. I'll just watch."
"They clean them," I said quietly, "I'll bleach your socks when we get home."
She shook her head. "Mom, they don't clean
anything
here. Look around."
I looked up in time to see the boys sprinting to the door. It turns out that Lynne was there. And they can't be ANYWHERE where Lynne is because, you know, they said, and it's way too complicated because of the myspace thing and what happened when Philip broke up with Devon and how her best friend got suspended, and just forget it, Mom, it's too hard to explain but we CAN'T be in there until she leaves. We CAN'T.
Well, fine, I told them. What do we do now?
"We're only five minutes from the beach," my oldest suggested.
"It's dark out and it's about 26 degrees," my husband pointed out.
"We could just go there," Christopher suggested.
So we did. On a cold, dark February night, we drove around the beach town where we swim in the summer and stood by the bay for a few minutes. It was cold and silent, but beautiful in a spare way. At least we were all together.
"Is this normal, Mom?" Emma asked.
"For us, it is." That's when my oldest put his hand on my shoulder. My 17 year old puts his hand on my shoulder as often as Haley's comet flies by so I looked up.
"Mom," he said, "I've decided what I want to do after I graduate."
I was still stunned by his gesture, and even more stunned by this sentence. "Christopher, you're going to college. You mean you picked a college?"
"I'm going to college later. After I graduate, I'm going into the Navy. I've thought about it for a long time, and I've decided."
The Navy.
I'm the Mom who calls the bus company when the bus is five minutes late, the one who doesn't go to the orthodontist's office without Neosporin and Tylenol in my pockebook, the one who never lets her kids sleep over anyone's house who isn't a blood relative.
The Navy. War. Distance. Danger.
But it made sense: my son's reluctance and final refusal to attend college night, the brochures that I thought were coming to the house unbidden, his lifelong interest in military history and war memorabilia, his strange request to go to the beach. We have always talked about the serious stuff at the beach.
"So are we normal?" Emma said, running over to me, "because I'm freezing and I want to get back into the car."
"For us, I guess," I answered.