On Saturday, my daughter, husband and I went to the Collingswood Book Festival. Now, my husband reads primarily bicycle and computer magazines, and after reading the first five pages of my novel said,"It's all I need to read to know it's good." My daughter just turned ten, so she can't even read YA - she tried, but went right back to
Diary of A Wimpy Kid
. Amazingly, they both found things to do there. My husband became fascinated with a "Tiki Bike" (there probably is a proper name for this, but I don't know what it is - it had a tiki bar roof and it rolled), and he got to talk to all the recumbent bike building people who stood on the fringes of the festival -- he was so happy to find those kindred souls. Anyway, here's a cell phone shot of the Tiki Bike. I think five people can fit on it: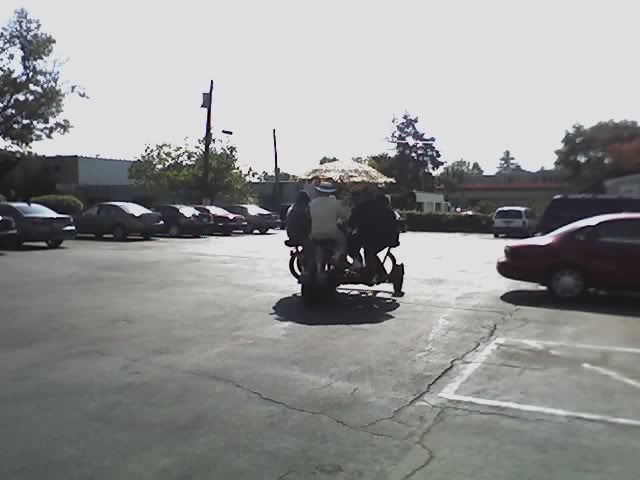 And my daughter found a make your own Wimpy Kid diary workshop, tons of homemade cookies, and this: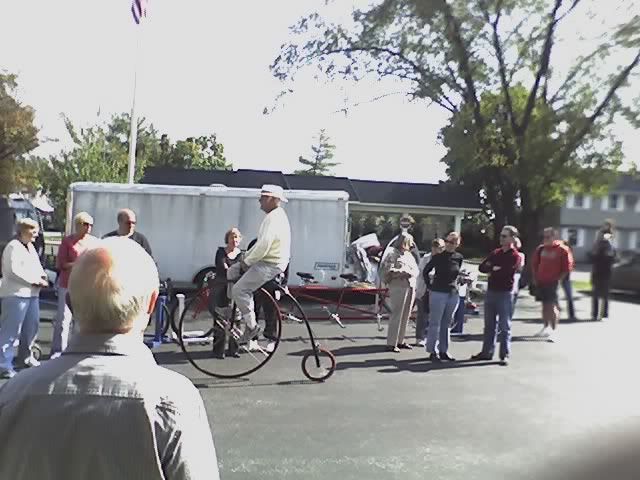 There were lots of authors, books, and street fair type anomalies (bubbles, gigantic, walking sharks, Cliffords, Dr. Seuss and retirement age men wearing wizard hats). Mostly teenagers stopped to talk to me, and several people thought I was a conservationist writing about the "shape" water was in (like something connected to the melting of the polar ice caps).
I had one man dressed entirely in black slither up to me. "I'm a demonologist," he said, "would I like your book?" I told him he probably wouldn't, then tried to act busy, which is not easy when all you have is a table, copies of your novel and some business cards. He asked if there was a sucubus in the book, and when I told him no, he moved along.
The funny thing was how many adults came up to me and told me they liked to read YA. I acted so surprised until my daughter looked up from her
American Girl
magazine and said, "So you like it so much you
write
it, and you're an adult."
Duh!
She's right, of course. I have always read YA and MG books, but I never admitted that until I published one.
The other weird moment was right after a couple of teenagers told me how much they wanted to be authors, and I talked to them for a few minutes about writing. They were really enthusiatic about my novel, and after I signed their copies, and they left, I turned to Emma and said, "Wow, it's almost like I have fans."
She was still reading her magazine, and this time, without looking up, she said, "Not really you don't. You're just Mom."