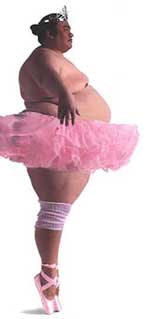 On Saturday, my ten year old has her dance recital. I was one of those moms who took her to dance class at the age of three, then sat in the audience and cried when they came out and did an adorably shaky tap dance in the spring. We all cried, the moms, and presented our daughters with bouquets of flowers that were almost bigger than they were. I don't think any of the husbands understood this ritual, but they tolerated it well.
I know this is an area of my marriage that still puzzles my husband: he has no idea why I take her to these classes and then sit there and cry when she dances. I think he might start crying if I ever told him what we pay for these classes and costumes. I have sneaked into dance studios with bills rolled up in my pocket like I'm paying off gambling debt.
This year, Emma did tell me she's thinking of not taking ballet in the fall. The girls who dance, she explained, are snotty, and the teachers play favorites. (Sigh. I was wondering when she would notice that)
I sat through the rehearsal on Sunday, thinking something else: there is a wild obesity problem in kids. I don't watch a lot of tv, but I do read, and I knew about this, but to see the kids in tights and tutus touches you in a way that statistics never can. And the weirdest thing is their parents.
If you have a chubby child, that's one thing. But to put that child in tights and a tiara in front of hundreds of people is an entirely different thing. And the kids move, so the chub bounces around in terribly unappealing ways. I thought something about watching them was making me lightheaded until I realized I was holding my breath until they were done.
I get the dance classes are to help the kid lose weight, but recitals are entirely optional and you have to pay for them. Why do they do it?
And while I was sitting there, I was also thinking there is, on the whole, not a whole lot written about dance and dance classes in YA lit. There's tons of stuff on football and soccer and track, but I can't think of any MG or YA books that talk about the experience of having been involved with dance. Maybe I'm just ignorant on this, but it's a pretty common experience of American girls, and books on it seem far and few between.
Come to think of it, there's not a whole lot on cheerleading either, at least that I can think of. Cheerleading seems to be where a lot of former dance students land (but not my daughter -- her comment was, "Like I would ever cheer for a
boy
...) But cheerleading is getting huge, at least around here. And since it's uniquely YA territory, I would think titles would spring to mind. Did I miss them?